Admin Sarah here, and I wanted to take the time to mention how AMAZING House Party is, and how generous their sponsors are. About a month ago, I was accepted for the Fisher Price Playdate House Party.

THE PARTY PACK
I got an email stating that my Party Pack was on its way. Imagine my surprise when a very large, very heavy box shows up, packed to the brim with OVER $350 worth of toys!! I was just blown away, they went above and beyond anything I had imagined. They had also shipped out the Party Favors, for me to give to the guests, and even those were very generous. The guests each got a coloring book, a Wheelies vehicle, a dvd, a cd, a $5 off $25 coupon, and more. They even sent the gift bags and tissue paper!! My daughter, because of her age(26 months), received the Toddler pack. This included the Disney Princess Little People Songs Palace, along with two Figure packs, the Little People Wheelies Loops N Swoops Amusement Park, and the Servin Surprises Kitchen & Table set, along with 5 Accessories, including the Tea Party Set, the High Chair Set, the Birthday Set, the Ice Cream Party Set, and the Barbeque Set. On top of all this, they also sent 14 AA batteries!! I was just astounded at how much they sent, and amazed that they would be so generous!!
MY HOUSEPARTY
So this past Saturday, we had our Party, and the kids LOVED it!! My boys, 5 and 7, were playing with the Wheelies set all day, they loved the full loop the cars made going down the steep slide. My daughter and her friends played with the Princess Castle, which I think is amazing, when you set a Princess on the pedastal and push down, she says her name, a phrase from her movie, and then sings part of a song from the movie! My favorite is Ariel, who sings "Part of that World", can't wait for The Little Mermaid to come out of the vault in Fall of 2013 so I can buy it in Bluray! My nephew, who just turned 1, mostly played with the Wheelies cars, he was too cute, driving them around the bottom of the Rampway and Amusement Park, making his little motor sounds. They were not too interested with the Kitchen, but I have no doubt that as my daughter gets older, she will definitely play with it. It was so cute to see all these kids crammed into my daughters' bedroom with all the toys. We have been Fisher Price customers for a long time, so on top of the 2 Little People sets they sent, we set up a "village" and added them to my daughters' Castle, Zoo, Farm, House, and Rampway that she got for her 2nd Birthday.
(Me, right, with my mom and little sister)                                         (Me, right, with my little sister)
GREAT MEMORIES
When I was little, my parents invested in all of the Little People sets, and my sister and I would be out on the living room floor bright and early setting up our village, we played with those sets for hours!! When she was first learning to talk, she referred to them as Peepios, and the name stuck! Our parents would lay down on the floor and play with us, driving the little cars around our town, taking kids to school, the park, the swimming pool, the grocery store, etc, and we were so happy that they were playing with us!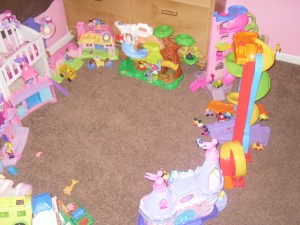 A MILLION THANK YOU'S
So I want to thank House Party and Fisher Price, your generosity truly amazed me, and I am absolutely thrilled that I get to carry on a great part of my childhood, and repeat the playtime with my children. I am almost 30, and still enjoy those "Peepios" just as much as I did when I was 5!!