Moon Foam – 2 Household Ingredients, HOURS of fun
Okay, we are ALL well past the "I AM BORED" stage of the current events.  We have built blanket forts, watched WAY to much Disney+ and Netflix, built every puzzle in the house, played games, done orbeez, read stories, played outside, constructed legos, Found Waldo, drawn and colored, and the list can go on and on.
Looking to mix up the play on a cool rainy day, I stumbled on this idea.  Using 2 common products, mix up a batch of the most amazing, soft, moldable play dough you have ever used!
In 2 minutes we mixed up a batch and gave the kids an hour of free play while I got dinner made!  This dough is more soft and almost taffy like than store bought dough, but it really was fun and had different texture that was very enticing.
Nolan found a few bigger plastic trucks and rolled though it making tire tracks and even some 'boulders' and lifted them to a dump truck.  Carlie was content rolling and flattening out pieces and cutting out 'cookies'.
PLUS, using the conditioner made for a lovely smell and soft moisturized hands!
📍 Pin HERE for Later!
What you need:
1 c. Corn Starch
1/2 c. inexpensive hair conditioner
food coloring if desired
In a large mixing bowl combine the first 2 ingredients with a stiff spatula.  If the dough is a little too sticky, add a bit more starch.  I added about 1 additional TBSP to get a nice moldable consistency.  Once totally combined, add a few drops of food coloring and knead together with your hands.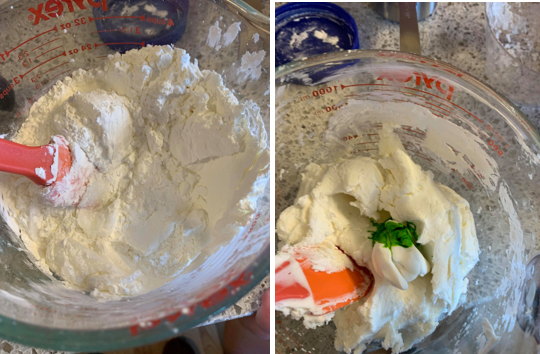 Note: If playing on a wood table, I would recommend a cookie sheet to keep from sticking into the table cracks and crevices.  This was not messy, but slightly more tacky than regular play dough!