I often rely on turning leftovers in to multiple meals to save time and keep from eating the SAME MEAL all week.  One of my favorite things to do is make a massive amount of chicken breasts in the slow cooker and use it throughout the week for lots of 'new' meals!  Grabbing a few pantry staples this casserole is a breeze to whip up!  You can even use a rotisserie chicken and not even have to worry about cooking the chicken!
Pin HERE for later!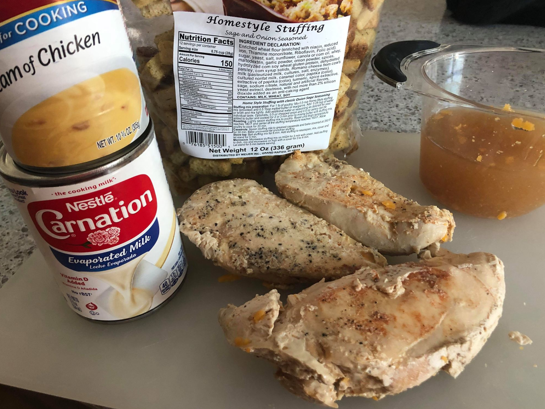 What you need:
Appx. 4 cups cooked chicken, cubed or shredded
1 can cream of chicken, mushroom OR celery soup
1 can evaporated milk
1 1/4 c. chicken broth (I used the cooking juices from my slow cooker meal earlier in the week!)
Salt & Pepper to taste
1 package (10-12 oz.) stuffing mix (or use 2 Stove Top 6 oz boxes)
Make it:
Preheat oven to 350° F
Grease an 8×8 or similar casserole dish
Toss the cooked chicken into the dish
Top with stuffing mix
Combine broth, cream soup, and evaporated milk + season with salt & pepper
Pour over stuffing and make sure all bread pieces get a splash of the liquid
Bake for 35-40 minutes or until browned and bubbling.
Allow to rest for 10 minutes and serve with a salad or vegetable!
Note: you can also add your favorite veggies with the chicken and make it in all in once dish!
Check out these dinner ideas, too!