Streusel Coffee Cake
Whenever we do a family brunch, you will find this coffee cake on the menu.  For as long as I can remember, this was my mom's signature 'dish to pass'.  It always looks beautiful, cuts and serves perfect and pleases the masses.  Little did I know it was made with a cake mix and comes together in minutes!  Now I find myself making it often and loving how simple it is!
Starting with a cake mix and adding just a few extra ingredients, you end up with a mildly sweet, tender cake with a tasty fruit swirl and perfect streusel crumb topping.  Serve this up with your next breakfast and everyone will be impressed with this easy coffee cake.
📍 Pin HERE for later
What you need:
1 yellow cake mix
1 c. flour
1 packet active dry yeast (1/4 oz.)
2/3 c. warm water
2 eggs – slightly beaten
2 Tbsp. sugar
1 Tbsp. vanilla extract
1 – 21 oz pie filling (any variety i.e. cherry, blueberry, apple)
5 T. butter melted
Make it:
Preheat oven to 350° F
Grease a 9 x 13 Pan. (I prefer a glass pan)
Add 1 1/2 c. of cake mix (reserve rest for topping), flour, sugar, and yeast to a bowl.  Lightly mix.
Add water, vanilla and eggs.  Using an hand mixer, stir until a thick dough forms.
Spread into prepared baking pan.  Dough is thick, but can be spread evenly in pan.  An offset spatula works best!
Top evenly with pie filling.  I used a cherry/blueberry mixed can.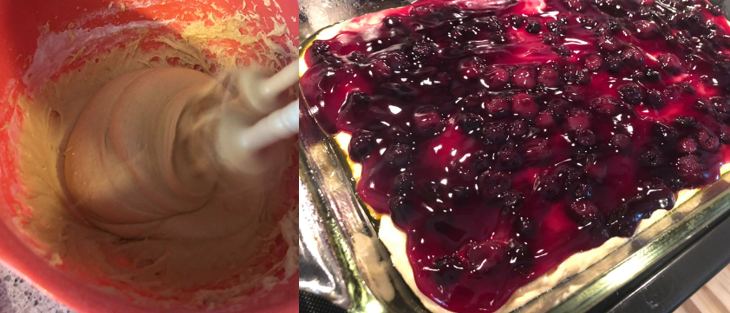 Prepare topping:
Mix reserved, remaining cake mix and melted butter.
Using your fingers, put small dollops of the topping all over the cake.  Do not cover completely – you want little spots peeking through with fruit filling.
Bake it:
Bake for 35-40 minutes at 350° F.  Turn the pan half way through.  The edges of the cake will be just brown and pull away from the sides of the pan.  A glass pan makes it easier to watch the color of the cake because the topping won't darken much in the oven.
The cake will rise in spots creating bubbles and valleys.  Don't worry – this gives it a very nice appearance when cut and served!
Remove from oven and allow to cool completely.
Optional: Drizzle with a powdered sugar glaze if desired.
Ice coffee make a refreshing accompaniment to this!