My challenge was to make "Ice Cream Cone Treats" for a bake sale. I wanted to do the cupcake ones in the cones, but they tend to get soggy.  Plus, I would have had to make them the night before, so it would have been worse.  Instead, we did a spin on them with things I had in the cupboard! After making these with my son and seeing how much fun we had, I think it would be a GREAT idea to make at a birthday or slumber party. 📌 Pin it HERE for use later!
No Melt 'Ice Cream' Cones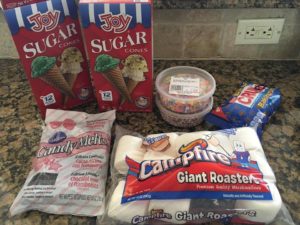 Ingredients:
Sugar Cones
Camp size marshmallows (the big ones)
Melting Chocolate Wafers (any colors) or chocolate chips, white chocolate chips, almond bark, butterscotch chips)
Sprinkles
Red Candy – we used bite size Twizzlers, but could use a red gum drop, red M&M's, red Sixlets, etc.
Disposable aluminum cake or lasagna sized pan
Directions: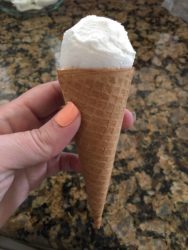 Cut the top & bottom of the marshmallow around the edge so it will fit in the cone, but tight enough so that you still have to stuff it just a bit that is will stay stuck in the cone. This will be your ice cream! We also cut around the top with a kitchen sheers so it had more of an ice cream scoop look! If it requires too much stuffing, cut off a little bit more so it doesn't break your cone (we lost 2 cones from over stuffing, but no complaints, they were a nice snack ).
Carefully melt your chocolate over a double boiler  or in the microwave.  Dunk your ice cream (marshmallow) in the melted chocolate of your choice! We used what we had on hand, but any color chocolate would be fun!
Roll in sprinkles! (hey, NOT YOU, the "ice cream" scoop. Though rolling around in sprinkles I may have to add to my bucket list, that just sounds like fun!)
Put a spoonful chocolate melted chips on top of the cone (milk, semi-sweet, dark – as long as it's brown). This is your hot fudge!
Top with your red candy to look like a cherry!
To set, I put holes in an aluminum foil pan to hold them (and also used some of our water bottles that had small top openings and some wine glasses, I have plenty of those in the kitchen).
I picked up the clear treat bags at the Dollar Tree and individually wrapped each cone!
Here is our final product. Simple to do and they taste OH SO YUMMY!
This fun little project was written by a dear friend and Midwest Coupon Clippers follower Brooke. A huge thanks to her and cute little Tucker for their continued help thru the years.
📌 Pin it HERE for use later!