If you love Kohl's Shopping as much as we do, make sure you come over and join our "My Kohl's Deals – Check them out" Group on Facebook HERE, Where we share some of our favorite deals we find!
---
---
Disclaimer: This post contains affiliate links and we will be compensated if you make a purchase after clicking on our links. You can view MCC's Full Disclosure Policy HERE.
Read down to see some of our most commonly asked questions ANSWERED!  We tried to address the things we see brought up often and compile them into one easy to find location.  We hope this helps all our fellow Kohl's Shopping Fans!
Are there any current codes?
Check the pinned post or announcements at the top of our Kohl's group page HERE for the current sale.  You can also look HERE at Kohl's website for current coupons. Very occasionally, if you check your wallet in your account or app, there may be a surprise percent off code or $5 off $25 code to redeem.  Often times these are valid in store only, however.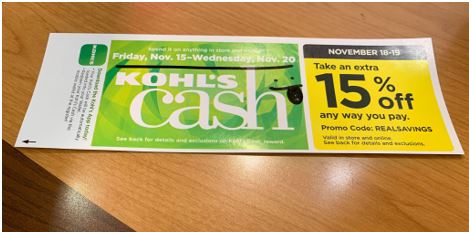 Can you redeem expired Kohl's Cash?
There is a lot of different information out there about whether or not you can redeem Expired Kohl's Cash.  In our experience, with a printed copy of the actual Kohl's Cash Rebate or the Email received with the code & PIN it can be redeemed IN STORE for up to 10 days past the expiration date.
If the cashier does not want to accept it you can request a supervisor or ask them to call corporate to verify it can be used.  It is a case by case basis and not everyone may have success in using it.
Want to try using it online?  You can do that, too!
Call Kohl's (855-564-5705)
Press 2 for Kohl's.com
Press 3 for Kohl's Cash
Press 0 for CS Operator
They will access your Kohl's account and IF you supply your expired barcodes and pins they will be able to apply the expired Kohl's Cash (again ONLY within 10 days).
Returns involving earned or spent Kohl's Cash
If you make a return and earned Kohl's cash, and the purchase now falls below the $50 value, the Kohl's Cash earned for placing that order or buying in store will be lost/voided.
On the same note, if you already redeemed the earned Kohl's Cash and then make a return, the return value will be reduced by the value of the spent reward.
If a return is made of an item where Kohl's Cash was redeemed, Kohl's issues a refund of the Kohl's Cash (if in store it is a BLUE voucher instead of GREEN).  Your return Kohl's Cash should also show in your Wallet.  The return value of Kohl's Cash expires in 30 days.
Please keep in mind that some recommend returning without a receipt, HOWEVER the return value of the item is the lowest price from the past 13 weeks. It may not be a benefit to try and keep the Kohl's Cash and return the item without a receipt.
If I use Kohl's Cash, can I still use promo codes?
The promo codes come off after the Kohl's Cash. So if your total is $50 and redeem $20 in Kohl's Cash – the percent off will come off the remaining $30 Balance and not the entire $50 purchase.
When does the next sale start?
Our affiliate programs typically send us Promo Codes ahead of time, but as part of our terms we CANNOT release them before the sale starts.  We try our best to keep all current promos updated and provide sale dates early when possible (like sharing photos of mailers sent from Kohl's).
What items are excluded from promo codes?
There is not an EXACT answer to that as there is a large list of specific brands & categories.  A few items to keep in mind:
Sports Apparel brands (i.e. NIKE, UnderArmour, Converse, Adidas, Columbia, and Licensed Team Merchandise).
Ugg/Koolaburra
KitchenAid
Beauty & Fragrance Products
Levi's
All Toys
S'well Cups
Dyson
Timberland
Select Electronics (video games, gaming systems, and FitBit for example)
All Consumable/Food Products
Remember that Kohl's Cash and Yes2You Rewards are earned when purchasing excluded items.
An additional important note: The above items are what we recommend using to redeem Rewards.  We always look for clearance Under Armour, NIKE, and Toys. This is best way to get the most bang for your buck with your Kohl's Cash!
Is there a free shipping code?
If there is a free shipping code available the pinned post or announcements at the top of our Kohl's group page HERE will have the information.
Most items are available as ship to store (sometimes even earn $5 Kohl's Cash for store pickup!).  This is a great option when there is not a free shipping code.
If you are near a store, purchasing an item at a Kohl's Kiosk or using the Kohl's App while connected to the Store's WIFI will also get your items shipped for free anytime!
Kohl's Rewards (formerly Yes2You Program):
Your Kohl's Rewards® balance is converted and issued in $5 Kohl's Cash® increments on the first day of the following month, valid for 30 days.
You earn 5% Kohl's Rewards on every purchase, every day (that's $5 for every $100 spent!)*. Your earnings will be added to your Kohl's Rewards balance within 48 hours of your purchase, unless otherwise stated.
A 

special birthday gift

 + more great savings all throughout the year.

Personalized perks

 to help you earn rewards even faster.
Plus, earn an additional $10 Kohl's Cash for every $50 you spend when you shop during a Kohl's Cash earn period.
Enroll HERE and learn how you can join and start earning BIG REWARDS while shopping at Kohl's.Rewards are typically sent out via email on the First of the following month in which they were earned.  It sometimes takes up to 24 hours to get the rewards value.  Check your email and wallet throughout the day.  Remember that if you make a return on an item after Rewards are issued, you could have a negative balance in the new month.


What are filler items?

One of our top shopping tips is using 'filler items'.  When you are a few dollars away from earning Kohl's Cash or near a 'threshold' spending amount to apply a promo code, add a low cost item to your cart to reach the required amount.

We always head HERE to clearance and sort low to high or check out the candles HERE and again sort low to high.  We love the Yankee Tarts or Sonoma Wax Melts.
What is Double Dipping?
Occasionally, when sale cycles switch over at Midnight (CT) the Kohl's Cash or Promo codes will overlap. Meaning you can 'double dip' the sales.  Read all the details HERE and learn how you can make the most of this fun savings trick.
Where are the Mail in Rebate Forms?
Head HERE to find all available rebates.  They appear in random order, be sure to scroll all the way down.
Where do I find a copy of my Packing Slip for a Mail in Rebate
If you need an extra copy of a packing slip for rebates, or did not receive one with your package you can print one from your account.  Log into your Kohl's account HERE.  Then:
(1) Go to recent orders
(2) Scroll down to the rebate item and select the order number
(3) Choose print/view packing slip