---
Disclaimer: This post contains affiliate links and we will be compensated if you make a purchase after clicking on our links. You can view MCC's Full Disclosure Policy HERE.
---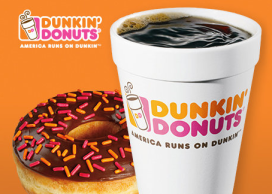 Dunkin Donuts DDPerks Reward Members
Upload $10 to Balance, Earn $5.00 Daily
Become a FREE DD Perks Member HERE 
Dunkin Donuts via DD Perks.com is offering their Dunkin Donuts DD Perk Members (Join for FREE) a pretty sweet reward when you re-load $10.00 onto your DD Card Balance via Master Pass, you will earn an added $5.00!
Limit 1 $5.00 bonus per Masterpass or DD Rewards account EACH DAY!
Bonus amount WILL NOT SHOW until you complete the transaction
Limited-Time offer from 6/28/18 thru 8/31/18. Offer is subject to cancellation at any time. DD Card value may not exceed $100.00. Again, THIS MAY END AT ANYTIME, last year they pulled this offer early. WE CAN NOT GUARANTEE it will work in case this offer has ended.
Note from Micki:
I had no issues doing this offer. I had a balance of $2.97 on my card. (I regularly upload an amount from my debit card) I had never used masterpass (you can use any credit card with it) but gave it a shot after hearing about this offer. Please note NO WHERE did I see this offer on my app…. but I needed to upload more anyways, so figured I would give it a try. In my drop down menu for forms of payments, masterpass was an option… so I filled out the info for it to join, attached my debit card to it, and it worked like a charm, no issues what so ever.
After I loaded $10.00 through masterpass onto my DD Card from the app, it immediately added the additional $5.00 bonus.
How AWESOME! I will keep doing this everyday until it ends OR until I have a $100 balance on my account, whichever happens first!
If you like Shopping Online, Join our Deals Group on Facebook HERE!