Big Savings on "Happy" Gift Cards – Eats, Kids, & Guys
Shop Online HERE On Staples.com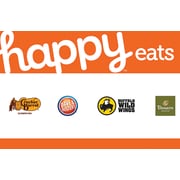 Happy Eats Gift Card $50.00 – $44.19
The Happy Eats card is the gift that will have them jumping for joy! What is the Happy Eats card? It's the gift of food AND fun! Enjoy classic Southern meals while shopping for funky finds at Cracker Barrel. Try chicken and waffle sliders while shooting hoops at Dave & Buster's. Share wings and a brew while cheering on the team at Buffalo Wild Wings. Or laugh with friends over a fresh salad and sandwich at Panera Bread. For anyone who loves the experience of dining out, the Happy Eats card is the perfect gift! Use the Happy Dining gift card at any Cracker Barrel, Dave & Buster's, Panera Bread or Buffalo Wild Wings location in the US.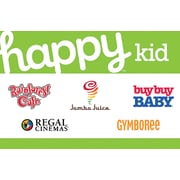 Happy Kid Gift Card $50.00 – $44.19
The Happy Kid card is the gift that will have them walking on sunshine! What is the Happy Kid card? It's catching a movie with friends at Regal Cinema, or a burger with a Tiger at Rainforest Cafe. It's grabbing a refreshing smoothie after school with the family at Jamba Juice. It's choosing their own awesome toy at Buy Buy Baby, or picking back to school favorites at Gymboree. The Happy Kids card is a chance for children of all ages to choose their own adventure! Use at any Gymboree, Jamba Juice, Rainforest Café, Regal Cinemas or Buy Buy Baby location in the US.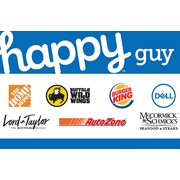 Happy Guy Gift Card $50.00 – $46.79
The Happy Guy card is the gift that will have him on cloud nine! Let dad pick out a new power tool at The Home Depot. Get your brother that new computer he's been talking about from Dell. Treat your uncle to a delicious meal at McCormick and Schmick's, or your son to a juicy burger at Burger King. Is your husband trying to decide between a new suit or new wipers? Now he can get both with Lord & Taylor and Autozone on the same card! The Happy guy gift card and gives him the freedom to choose across his favorite brands in home, fashion, food and auto. Use the Happy Guy gift card at any The Home Depot, AutoZone, Dell, Buffalo Wild Wings, Lord & Taylor, Burger King or McCormick and Schmick's location in the US.
$50
Included in the gift card purchase price is a $1.99 Secure Shipping Fee. This covers trackable shipping through the US Post Office, to ensure safe arrival.
Staples DOES NOT sell more than $2000 of gift cards in any order due to Federal anti-money laundering regulations
If you are a Staples Reward Member you will get FREE SHIPPING plus earn 2% to %5 Rewards on your purchase! Not a member? Become one now below, IT IS FREE!
Staple Rewards Members: It pays to get with the program! Sign up for free now and start earning rewards on tons of products.
Earn 2% to 5% Rewards on Purchases
Free Shipping on orders over $14.99
$2 back in rewards per recycled ink cartridge
Price Match Guarantee
And More…