Shop Kohl's Online HERE
It's back again! Hurry over to Kohl's online where they have the highly rated Canon EOS Rebel T5 Digital SLR Camera with Bag, 18-55mm Lens AND 75-300mm Lens for only $449.99, regularly $799.99.  Shipping is free on this item, or choose free in-store pickup.
Promotions and other discounts are not eligible for this product, but you will earn $80 Kohl's Cash (or spend one penny more and earn an additional $10 Kohl's Cash!) and 450 YES2YOU Reward Points!
Our FAVORITE Kohl's Deals: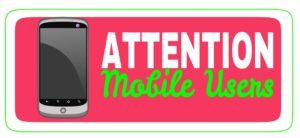 ATTENTION MOBILE USERS

: IF you are having problems viewing a product or getting a "product not found" message switch your phone to desktop view! IF you are unsure how to do this, here are directions: "How to Switch Views for Mobile Users"