How to Play Duck…Duck…Goose on Coupon Clippers Facebook
Ready to play Duck…Duck… Goose on Coupon Clippers Facebook Page?  And yup, WE WERE the FIRST page to start this game THREE years ago, developed by our very creative admin. Rita! It really is very simple!
How to Duck:
Randomly, at anytime when our Facebook Page is busy with fans commenting and liking on our posts, Donald Duck (Image above) will pop up on our page.
When you see the image above Pop Up, Comment "Duck" under the Photo. Every 10 comments, you can comment duck (Example of a previous Game below)
Now remember, You can Duck every ten fan comments…Any more and you will be disqualified. For example… Jean commented at 8:02, after ten more people comment "Duck" she can comment "Duck again." Warning: DO NOT OVER DUCK… if you do it to fast, Facebook will comment block you for commenting to fast in to short of time.
How you get "Goosed":
At anytime… You can get "Goosed" (Example below) I will "Goose" someone and hyperlink their name (so they get a notification) In this comment I will not only hyperlink your name saying you have been goosed… but I will also put a link for you to go and put your email address in a blog comment and state you have been "Goosed". YOU MUST DO THIS in 3 minutes or less! If you do not leave your email address and let us know you were "Goosed" in the required time we will start Ducking and goose a new member.
Tips:
Be Patient – Sometimes facebook hides comments. (When you comment Duck) so we have to unhide them. NO WORRIES, if you commented Duck, it is there, it just may take us a few minutes to unhide them, but know WE DO SEE THEM. When we play Duck…Duck… Goose… we always have at least three admins. helping… One unhiding comments, one watching to make sure everyone follows the rules, and one watching for us to Goose someone and verify the winner.
Our "Commercials Count as a Duck" –  While playing you will see what we like to call "Our Commercials" (example below) you are not required to click on them (we do not mind if you do though, and it helps pass the time), they do count towards "Ducks" when you are waiting for the next ten comments.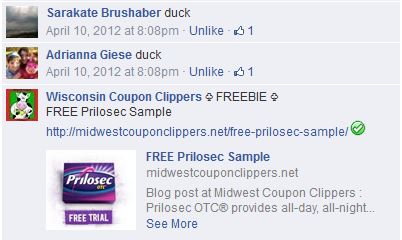 When & Why – We never have a set time to play, but a helpful tip would be to BE ACTIVE on our page when you see a post of ours. Like or comment. The more active our page is during the day, the more likely Donald will pop up with some fun prizes to win. (When fans are active liking and commenting, it lets us know a lot of you are out there at that time, and what better time to play a fun game!)
Hint – Sometimes… NOT ALWAYS… but sometimes we will give you a hint Donald just may be coming around! So if you see this picture (example below) chances are good he is about to make an appearance in the next hour or so 🙂
Thats it! Sound like fun? Come on over to Wisconsin Coupon Clippers Facebook page and have some fun!