GREAT AMERICAN HOME BAKING
WHIP UP SOME HOMEMADE HAPPINESS

Are you an experienced baker like me — replicating recipes with finesse and ease — completely comfortable and at home in the kitchen?  Are you more of a novice baker — trying out a new recipe for the first time or standing frustrated in a flour and sugar covered kitchen?  Whether you're a beginner, a pro or anywhere inbetween,
Great American Home Baking
has something for you!  I personally have used this program in the past and have built up a great collection of easy, step-by-step, delicious recipes!
▼▼ CLICK ON THE BANNER BELOW TO JOIN ▼▼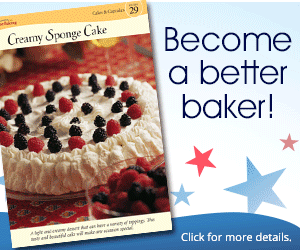 Membership Introductory Offer Includes

:
✔
3-ring Recipe Binder with 10 "Easy to Locate" divider tabs
✔
36 kitchen-proof, step-by-step recipe cards
✔
Porcelain 9-inch pie plate
✰✰ This offer retails at an $82 value, but is all yours for only the $4.95 cost of shipping & handling ✰✰

Continued Membership Includes:
✔ Twelve new recipe cards delivered to your doorstep every 3 weeks
✔ Ten day risk-free trial of the delivered cards
✔ Pay $7.95 for each set of cards you keep, plus a nominal $1.25 S&H charge
✔ There is no minimum purchase requirements for membership
BAKE UP A BATCH OF LASTING FAMILY MEMORIES
WITH THE HELP OF GREAT AMERICAN HOME BAKING TODAY!!!!