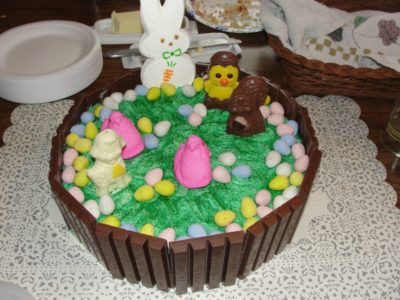 Easter Cake

Ingredients
King Sized Kit Kat Bars
White Cake Mix
Frosting
Food Coloring
Marshmallow Peeps
Cadbury Chocolate Eggs
Chocolate Animal Candies
Green Crystal Sugar Sprinkles
Directions
Prepare cake mix as directed and separate evenly into two bowls.  Add a few drops of food coloring of your choice to each bowl to make pastel colored cake.  Bake in round pans as directed and let cool.
Frost between the 2 cake layers and then apply a generous amount of frosting around the edges of the cake.
Place Kit Kat bars around the sides of the cake using the frosting to hold them in place, creating a fence around your cake.
Apply green frosting to look like grass over the top of your cake.  I used Betty Crockers Cupcake Icing (it comes with all the tips you need).  After the grass is frosted on the cake, top with green crystal sugar sprinkles.
Place chocolate animals and marshmallow peeps onto the top of the cake.  Arrange Cadbury chocolates to look like little easter eggs in your "fenced area".