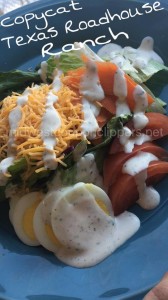 Copycat Texas Roadhouse Ranch
---
Pin it Here: https://www.pinterest.com/pin/420101471471042510
Prep Time: 7-mins. (approx.)
Yields: 2-cups (16-oz.)
Ingredients:
1 c. Lite Buttermilk
1 c. Hellman's Mayo
1 Hidden Valley Dry Ranch Mix Packet
1/4 tsp. Ground Cayenne Pepper
1/2 tsp. Cracked Black Pepper (or ground is fine)
1/4 tsp. Garlic Powder
Steps:
Mix all ingredients together and refrigerate.

ENJOY!
Do you like Recipes? Check out our Facebook Group with some of our FAVORITES!
Recipes – Check them out!
https://www.facebook.com/groups/recipescheckthemout/
Some other Recipes you may like:
Copycat Starbucks Blueberry Muffins
Get Recipe Here ============►►► http://wp.me/p1T1oF-Vef
Easy Crock Pot Mac & Cheese Recipe
Get Recipe Here ============►►► http://wp.me/p1T1oF-FY7
Pin It: http://pin.it/qUdLjqB
Copycat Red Robin Campfire Sauce
Get Recipe Here ============►►► http://wp.me/p1T1oF-RCR
Pin It: https://www.pinterest.com/pin/420101471471069281/
Cheesecake Recipe – Yellow Cake Crust
Get Recipe Here ============►►► http://wp.me/p1T1oF-MPU
Pin It: https://www.pinterest.com/pin/420101471469119878/
Simple Crock Pot Spaghetti
Get Recipe Here ============►►► http://wp.me/p1T1oF-JPi
Pin It: https://www.pinterest.com/pin/420101471467737712/