Copycat "Restaurant Style" Salsa
---
Prep. Time: 10-mins. (approx.)
Yields: 6 1/2-cups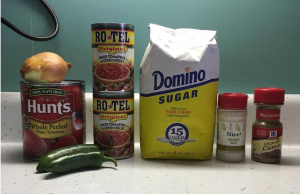 Ingredients:
28-oz. can Whole Tomatoes, do NOT drain!
(2) 10-oz. cans Rotel (I used original)
2 Jalapenos, seeded & diced
1/2-c. Onion, diced

1-tsp. Garlic Salt
1-tsp. Cumin
1-tsp. Sugar
Juice from 1/2 a lime
Steps:
Put everything into a blender, including juices from canned tomatoes and rotel

Blend (blending time will depend on how chunky or not-chunky you like your salsa. I made mine a tad on the thinner side)
Chill. The longer this sits in the fridge the better is tastes! (a few hours, not a few days LOL)
This salsa tastes just like the salsa you would get at Cozumel or Chili's, SO YUMMY! It is even very similar to the salsa at Applebee's!
TIP: If you want a little more of a flavor profile you can add cilantro or even garlic (try it roasted!)
Looking for More Appetizer Ideas? Check Out These Suggestions: